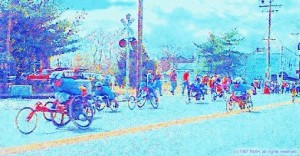 FRAMINGHAM, MA - The 114th Running of the Boston Marathon will take place on Monday, April 19, 2010.
Marathoners will leave the Hopkinton starting line in groups and waves starting at 9:00am. With up to 25,000 expected to participate this year, it will take an hour and a half to get all the marathoners over the starting line and headed towards Boston.
The schedule below lists the groups and starting times:
9:00 a.m. - mobility impaired participant start
9:17 a.m. - handcycle participants
9:22 a.m. - (push rim) wheelchair division starts
9:32 a.m. - elite women's runners start
10:00 a.m. - elite men's runner and "wave one" start
10:30 a.m. - "wave two" starts
Parking for the Marathon is available in the former Fabric Place parking lot on Howard Street with minimum $5 donation to the Special Olympics. (Sponsored by The Rotary Club of Framingham)
Note: If you need to drive through Downtown on Monday, expect detours and delays. Roads crossing Waverly St., (Rt. 135), in Downtown Framingham will be barricaded and closed to vehicular traffic until the majority of runners pass through Framingham.
- Updated -
BOSTON, MA - April 19, 2010 - Robert Kiprono Cheruiyot of Kenya, the 2010 Boston Marathon winner in men's division sets new course record at two hours, five minutes and fifty-two seconds, (2:05:52).

2010 Boston Marathon Winners:
Men's - Robert Cheruiyot, (2:05:52)
Women's - Teyba Erkesso, (2:26:11)
Men's Wheelchair - Ernst Van Dyk, (1:26:53)
Women's Wheelchair - Wakako Tsuchida, (1:43:32)
###
Comments Off

on 2010 Boston Marathon Info