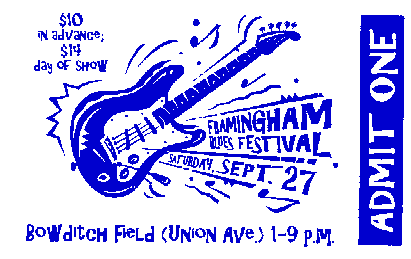 FRAMINGHAM, MA -

The Framingham Park & Recreation Department outdid itself once again, hosting the 2nd Annual Framingham Blues Festival at Bowditch Field which featured local

and

international blues talent including

Rufus Thomas, Levon Helm, and Leon Russell.

Bob Merusi, (Framingham resident and Town Parks, Recreation, and Cultural Affairs Director), and Ted Epstein, (of the Sit n' Bull pub in Maynard, MA), were the driving force behind both this year and last year's Framingham Blues Festival.

During the first festival, (in 1996), performers played to a crowd of only 1000 who braved the rain and the cold to hear the blues.   This year, under blue skies and with temperatures in the 60's, attendance tripled, with families pushing baby carriages, teens and 20-somethings, bikers and blues lovers enjoying an early Fall afternoon and evening of blues, bar-b-que, (and beer).

The festival opened with high-school

Battle of the Blues Bands

finalists

Auntie Darth

, followed by local favorites

The Regulators

and Boston jazz and blues pianist

David Maxwell

as some festival goers packed in around the stage and others wandered about -- talking with

old and new

friends, shopping for t-shirts and souveniers, and just plain enjoying the day.   Special accomodations included ice-cream, face painting, and a

MoonWalk

, plenty of room to kick or throw a ball, run around, or just roam in an area the Park & Recreation Department set up

just for kids

at the north end of the field.

As the sun went down and the stadium lights came on, rock n' roll, soul, funk, and R&B

legend Rufus Thomas

took command of Bowditch Field and all who were within the sound of his voice.  The eighty year old Thomas who's hits include

"Walkin' the Dog"

and

"Do the Funky Chicken"

was backed up by local blues band

B.J. Magoon & Drivin' Sideways

.   Rufus' humor and style were as much a hit as his show-stealing set.

Listening to the blues, you almost can't help but sway to the music or at least shuffle your feet around a little, but Katie Lennon, a graphic designer from Natick. MA took things a few steps further... tap dancing on the cement bleachers and stairs for hours just behind the stage as the legendary acts performed.   In her opinion the blues and tap dancing are a natural mix -- she hopes to one day put together a troupe and call it "Blues on Tap".

It was rumored that Leon Russell's truck had broken down, and that he may not make the show -- but as scheduled, just after 8:00 PM he and his band walked onstage and began to play.   Russell seemed a bit uptight at first, but soon relaxed as he delivered the final set of the festival which included "Delta Lady", "Tightrope" and about a dozen tunes in the smooth and cutting style that is Leon Russell.

###
Comments Off

on Framingham Blues Festival (1997)