FRAMINGHAM, MA - Temperatures above 50 degrees and wind from the east are not considered favorable conditions for running from Hopkinton to Boston, and it was already starting to show on the faces of some of the ten thousand plus runners as they paced their way through the Framingham stretch of the 101st running of the Boston Marathon.
Runners left Hopkinton at 12 noon and the wheelchair division 15 minutes earlier. To participate, entrants had to be 18 years or older on race day, and have completed a sanctioned marathon with a qualifying time for their division during the previous year. With competetion like the Kenyans, Uta Pippig, Jean Driscoll, and other course favorites, most knew from the outset that they could not hope to win --- and most only hoped to finish the 26.2 mile course ...in any amount of time.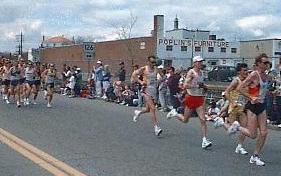 First to cross the Framingham town line and pass the cheering crowds in downtown at a few minutes after noon, was the wheelchair division. Passing the Rt. 135 / Rt. 126, (Waverly St. / Concord St.), intersection, the difficulty of navigating rail-road crossings on the three wheeled racing chairs was obvious --- and became painfully so for Jean Driscoll when she later lost control and flipped her chair in Bookline's Cleveland Cirlce after her front wheel got hung up on a trolly track.
At the time of the crash, Driscoll, who had won the woman's wheelchair division for the past seven years, and held the course record in her division, (1 hr. 34 min. 22 sec. in 1994), shared a neck-to-neck lead with Louise Sauvage. With a few small scrapes, but an unbroken spirit, we're sure Driscoll will be back next year to challenge Sauvage who went on to win the division title (1 hr. 54 min. 28 sec).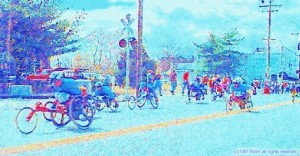 Before and during the marathon, scouts from Pack 2 (Saxonville) ran a concession booth on the corner of Bishop and Howard Streets and hit the streets pulling wagons loaded with coffee, donuts, pizza, hot-dogs, popcorn and soft drinks --- and with the number of trips they made, they may have covered more distance than the 26.2 mile marathon course!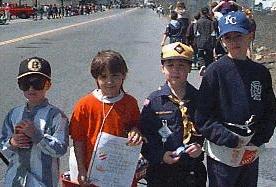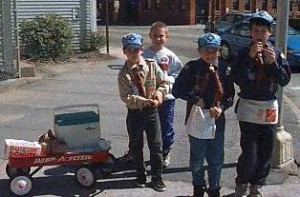 1997 Boston Marathon Results
Men: Lameck Aguta (2:10:33)
Women: Fatuma Roba (2:26:24)
(Wheelchair Division) Men: Franz Nietlispach (1:28:14)
(Wheelchair Division) Women: Louise Sauvage (1:54:28)
###
Comments Off

on With or Without Wheels